Charlaine Harris, Living Dead in Dallas
reviewed by Danielle L. Parker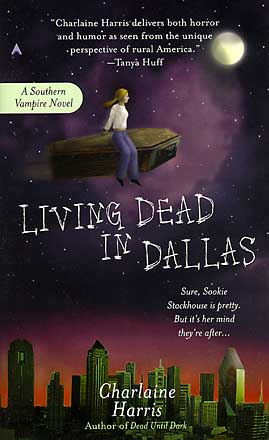 Living Dead in Dallas

Author: Charlaine Harris
Publisher: Wheeler, 2005
Length: 398 pages
ISBN: 1-58724-935-9

First, I have to admit right off the bat that Charlaine Harris's "Southern Vampire" series is a guilty pleasure of mine. The series starts off with Dead until Dark, carries on with Living Dead in Dallas, and runs right on through to the recently released Dead as a Doornail. So don't expect this to be an unbiased review. I've found myself impatiently checking the author's official web site to see when the next in the series will be out, contemplating joining the raging Bill-vs.-Eric discussion, and dithering over whether I ought to (on a librarian's pitiful salary) buy the books for my home library.
So are we talking Great Literature here? Sorry. What we're talking about is the literary equivalent of a box of Krispy Kremes — you know, something addictive and probably unhealthy (guaranteed to bag your eyes, at least: you'll stay up late to finish it). Never mind. Get the whole series, lay a copy of Moby Dick or War and Peace or something equally high-brow on the side to assuage your conscience, and pig out. I've always felt reading was a bit like dining. Everyone needs the occasional stress-relieving junk food along with the home cooking and the high-falutin' haute cuisine. We can't read Kafka — or even Shakespeare, bless his commercially successful genius — all the time. Get the fat bombs while they're hot and enjoy.
Of course there is a reason why Charlaine Harris makes the old, old, done-to-death vampire chestnut work so well. Actually, there are two reasons why. The first is characterization. Plots are soon forgotten; even ideas (as we, who read in the speculative fiction genre, know only too well) can become passé, once they've changed the world. Great characters remain three-dimensional forever. This is what Dickens and Robert Louis Stevenson and Shakespeare and yes, J. K. Rowling, too, knew so well. Long John Silver steps out of the page; Falstaff belches from the stage century after century; Snape glares from under his greasy hair. They'll never die.
Harris seems to have learned that lesson too. Sookie Stackhouse, the heroine of the series, is a thoroughly believable person: a waitress with both a waitress's innate toughness and struggles with self-respect; a woman who's got some emotional baggage and some unusual problems, a few friends, a history. Harris's vampire characters, in turn, are real enough to inspire this reader with a sneaking crush on one of them (bad-boy Eric, of course: in Bill-vs.-Eric, there is no contest. Eric has a zestful sense of humor and a sharp wit. Bill, well, excuse the pun, he's just dead, as far as laughs go).
The second reason Harris' stories work is authenticity. The stories are set, mostly, in small-town Louisiana, and Harris (a native herself of Arkansas) nails southern culture dead on. Having once, in my time, lived in the land of the long drawls, I can feel how true the settings of her stories are. There's the devotion to church on Sunday (regardless of what shenanigans happen on the other days of the week); the deep and sometimes incestuous interest in family and community; the ritualized courtesies that are exchanged by people who are still taught their old-fashioned manners, right down to the home-cooked cake delivered by a neighbor. It's real.
It's best if a new reader starts with the first story in the series, Dead until Dark, but it's possible to jump right in with the second, at least, if your local library doesn't have the inaugural volume on hand. Don't dive in later than that, though. The story is definitely a serial, and in any case, the first three in the series are the best. I have issues with the later ones: Sookie gets entangled with far too many extraneous suitors, being one (do we really need to channel Lauren K. Hamilton here? Yes, Ms. Harris, we already know all red-blooded males find Our Gal irresistible, but let's get back to Eric and Bill and even sexually frustrated but loyal Sam, if you don't mind...)
In Sookie's second adventure, Living Dead in Dallas, Sookie, who's become entangled with the vampires through her un-dead boyfriend Bill, finds herself on her first unasked-for assignment. Sookie is telepathic, and Eric, Bill's ruthlessly opportunistic boss, has hired Sookie and her unusual talent out to another nest to find a missing vampire nest-mate, in a sort of rent-a-tool deal.
But our busty blonde heroine finds herself caught between a sharp tooth and a hard place in Dallas. The local vampires who are supposedly on her side aren't used to thinking of breathing people as much more than appetizers, and the fanatics who've kidnapped the missing vampire are quite willing to off Sookie, too. Not to mention she's having a hard time fending off Eric's persistent attentions (why struggle with the inevitable and the enjoyable is my question, but then, Sookie has this inexplicable preference for the chilly Bill). How's a sexy blonde to cope?
Check out the Southern Vampire series and find out. Enjoy!
Copyright © 2006 by Danielle L. Parker