Book Review:
Kage Baker, Children Of The Company
by Jerry Wright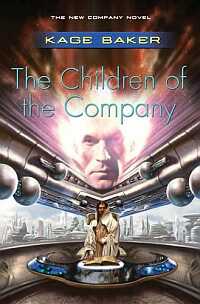 Children Of The Company

Author: Kage Baker
Publisher: Tor
Trade Paper: 304 pages
ISBN:076531455X
Price: $24.95

I stumbled across this latest of Kage Baker's "Company" books in the library. I've been looking for books by this lady in our local bookstore, and been quite disappointed. Because they haven't been there. So I grabbed Children Of The Company as soon as I saw it. And then... In a Barnes & Noble, I found Life of the World to Come, now in paperback! Almost an embarrassment of riches. I'll review this one first, as I read it first, but let me say that while this one was pretty good, LOTWTC was great. But we'll get to that!
Of the "Company" books, up until now, I'd only read Sky Coyote. And I wanted to read more! So now I've read two more and looking forward to some re-issues. Anyway, I was introduced to Mendoza, and Joseph, and Labienus in Sky Coyote. I've been waiting to see how Baker moves the story forward, what Joseph's fate is, and where Mendoza will go from here. Unfortunately, The Children of the Company doesn't answer those questions, but instead fills in a lot of backstory on the future and the machinations of a faction of Immortals, led by Labienus, who plans on perverting what the Company is doing for his own ends. This is an interesting book, a fixup of a number of short stories with a framing story. All in all, good, but not great.
The story takes place in three time periods: 1863, 1906, and 1906-2100. General Labienus (who was last seen sentencing the botanist Mendoza to 150,000 years ago exile) is reviewing some of his files, so that we can see his plotting to pervert what the Company is doing, for his own benefit. As far as he can see, the Company is corrupt, the statement that recorded history cannot be changed as a lie (or, at least misleading), and all those "mortals" are scum and slaves whose only purpose is to do the Immortals' bidding when the time comes. These files consist of previously published stories that give us pieces of the plot, all brought together for the first time.
So what is Labienus doing? He's trying to turn the Facilitator named Victor, who has been allied with Labienus' rival, Aegeus. We also get the history of the "shadow" humans who ended up capturing the literary expert Lewis in The Graveyard Game. It also, in an interesting twist, gives us a look from the other side at the saga of Alec Checkerfield and his various incarnations throughout time. (For more on the story of Alec, see Life of the World to Come)
The various stories are interesting, but even more important, they are put together so that we can see what is really going on. We see the fate of Kalugin, a Russian Immortal who sees a bit more than he really should have in a future that's plague-torn. We see the history of Lewis that he can't remember in The Graveyard Game, as well as what happens when he starts to remember it. The compilation is quite interesting, but I wished for a continuation of the stories of Joseph, and Mendoza.
Having only read ONE "Company" novel, and only a few "Company" stories, I really wanted this book to "go somewhere", but as it is mostly fill-in-the-backstory, it didn't get me there. However, having read it, and THEN LOTWTC, I appreciated it more.
I have read that there is a new "Company" book coming out called The Machine's Child which is the capstone of the series, and I am looking forward to it very much. This book was interesting, but rather a side-journey on our trip through time with the agents of Dr. Zeus.
Copyright &copy 2006 Jerry Wright and Bewildering Stories