To the late Jim Baen
by Kevin Ahearn
Jim Baen is one of the giants, along with John W. Campbell and Donald A. Wollheim. — Jerry Wright
There's the "real world" and then there's the "world of science fiction." That their orbits are diametrically different goes without saying, but you'd think every once in a while both trajectories would intersect, if only for a moment.
Ask the "real world" about science fiction and its inhabitants will praise Steven Spielberg, George Lucas, and Peter Jackson whose "sci-fi entertainment" blockbusters have made billions but have little or nothing to do with the "world of science fiction."
In our world, if I had to pick one individual who epitomized what science fiction was all about, it would not be a film maker or a TV producer or even a writer, but the man whose spirit and tireless enthusiasm for the genre was a lifelong quest, not simply to sell science fiction, but to tirelessly push the science fiction envelope into the future.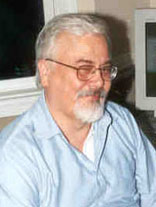 Jim Baen was an independent, a pioneer and a maverick who started his own publishing company twenty years ago and set out to develop a whole new generation of science fiction writers. But Baen's vision went beyond the written word and into the future of the page itself. Not just the product of science fiction, but the production and distribution of science fiction — it was Baen, first and foremost, who championed the concept of unencrypted ebooks and Baen Books' Webscriptions became a model of the industry.
Baen had his successes and his setbacks, but never did he waver. That was his magic: in our ever-changing world, never to be satisfied with standing still. His latest innovation, Universe, a 150,000-word science fiction internet magazine, premiered last month offering exclusive fiction by some of the best writers in the field.
Jim Baen suffered a stroke and passed away late last month. His loss will be incalculable in the "world of science fiction," but in the "real" world, his passing seemingly went unnoticed and ignored. Searching the print and internet media, I could barely find any more than a cursory obit. And forget television; they didn't even know what Baen meant.
The "world of science fiction" is smaller without Jim Baen, and so is the "real world," whether it knows it or not.
Copyright © 2006 by Kevin Ahearn