Mama Tried to Raise a Lady
by R D Larson
Excerpt
Mama's Fairy Slip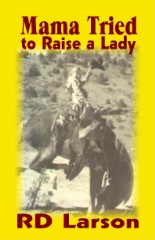 (linked graphic) My Mama was always saying she had a "thing" for pretty, lacy slips. My Pop had thoughtlessly bought her one when they were dating but because it was such a shocking and unseemly gift, she made him return it. My theory was that she never got over wanting that same slip, but what did I know? I was only a kid.
Fancy slips were something she really enjoyed. She even slept in them, like a lazy movie star. When she got up in the morning during summer she would sweep her chestnut hair up with tortoise combs. "I'll just slip into this wrapper," she would say to me. She would shrug into it regretfully, the creamy, rounded flesh disappearing to become the morally correct. She did, in fact, look like a large pastel gift, wrapped in pink and blue flowers.
Winter and spring, her wrapper was chenille. I liked it the best. Especially, in the early cold spring, when I would pull out the tufts of chenille behind her backside and save them for stuffing into the old knothole up in the maple tree. You see, it was my sworn duty when I was about eight years old to provide bedding material to baby birds. Mama was so funny! She used to complain to Pop about how chenille today just wasn't the quality that it use to be; why, the whole back of her robe had somehow gone bald.
My southern mother entertained with lots of people and lots of food; it was her way. One early fall just after the canning was finished my Mama decided to throw a big dinner party. She started saving the smallest pumpkins from the garden and the most vivid leaves off the maple tree in our front yard. Pop always said that all of Mama's shindigs had a theme; this theme was "Harvest Time." She dyed an old cotton sheet a strange shade of purple with onion skins and began to work on a scarecrow that would have put Dorothy's boyfriend in the Wizard of Oz off the best-dressed list.
Copyright © 2006 by R D Larson