FTPD: Fairy Tale Police Department (DVD)
reviewed by Lewayne L. White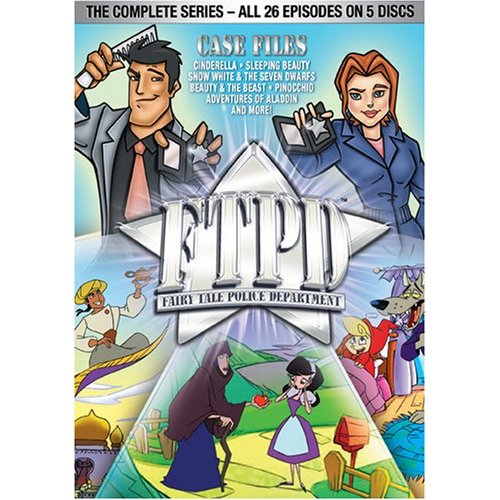 FTPD: Fairy Tale Police Department
Format
: Animated, Box set, Color,
Digital Sound, Dolby, Full Screen, NTSC
Language
: English
Subtitles option
: Spanish
Region
: Region 1 (U.S. and Canada only)
Aspect Ratio
: 1.33:1
Number of discs
: 5
Studio
: Tango Entertainment Inc
DVD Release Date
: May 23, 2006
Run Time
: 624 minutes
ASIN
: B000F39QUC
While strolling though a local Dollar Tree, I discovered a DVD that may literally change the future of my writing career, such as it is. Apparently someone in Australia released an animated series called FTPD, or Fairy Tale Police Department. As the author of an on-going fiction series called "FTPD: Homicide," I was a bit distressed to make this discovery.
After experiencing a variety of emotional responses, I dropped a dollar for the Case File #1 DVD. So far the outlook was bleak. The cover art featured two human detectives with spiffy badges, lots of fairy-tale related crimes, and a title that suggested the possibility of legal issues for me or Yoram Gross/EM.TV.
Then I watched the DVD. Aside from the similar title and location, FTPD and "FTPD: Homicide" bear only a superficial resemblance to each other.
In FTPD, the two human leads are Johnny Legend, a vain, less than brilliant guy, reminiscent of the Freddy Prinze Jr. version of Fred from Scooby Doo; and Christine Anderson, a no-nonsense investigator who wanders dangerously close to the aggressive "female cop who has to prove herself" stereotype. He relies on hunches and swagger. She prefers deductive reasoning and science.
Their boss, also human, comes complete with moustache, balding head, and foul temper. His primary functions seem to be to sit behind a desk, assign cases, howl at the detectives when they do something stupid. Rinse and repeat.
Also assisting in investigations are Wanda, the office fairy godmother; and Claude, a frog who serves as chief forensics scientist — when he isn't inventing devices that don't work properly.
The investigations themselves essentially focus on "fixing" fairy tales gone awry to ensure a "happily ever after" while featuring a sub-plot with a sort of "moral."
In the first case, "Puppet in Peril," Pinocchio, still an unshaped stump of wood, is kidnapped. Legend and Anderson, both stubborn, independent, and newly introduced to each other, have to locate the missing "boy" while learning to function as partners.
In the "The Frog Prince Riddle," the detectives must help a princess find the frog who rescued her golden ball. Unfortunately, he's legged it back to the swamp because the princess failed to keep her promise to kiss him. Legend also learns the value of keeping a promise when he fails to get Anderson's coat cleaned. Along the way, Legend gets turned into a frog, and has a run-in with the Brando-inspired "Frogfather."
Also included on this disc are "Black Day For Snow White," "No Kiss For Sleeping Beauty," and "The Little Pigs' House Of Trouble."
I'd like to tell you how horrible this series is... But I can't.
Once you accept that this "FTPD" isn't a fairy tale for adults like the Shrek films (no underlying adult themes, 2-D rather than CGI animation) it's not bad. The mixture of accents, familiar fairy tale faces, juvenile humor, and a hint of a crime story, actually make this "FTPD" an entertaining, lightweight show for kids under ten. It's not brilliant, but it's better than a lot of other children's entertainment. The princesses alone make it my five-year old's new favorite cartoon. My eight-year old thinks it's "Okay, but a little weird."
I wouldn't say I highly recommend the series, but it's worth a look if your kids have worn out their other videos.
Boxed sets are available at various online retailers, and individual discs can be found at Dollar Tree.
Copyright © 2007 by Lewayne L. White