Eric C. Williams, For Mona
The Autobiography of Eric C. Williams
reviewed by David Redd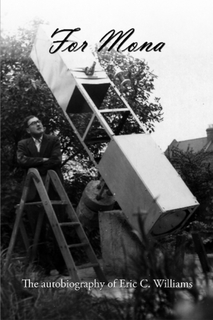 For Mona

Author: Eric C. Williams
Publisher: Lulu.com
Trade Paper: 150 pp.
ISBN: 978-1-4457-5960-9

Eric C. Williams was a well-known fan of science fiction before World War II, and afterwards he helped fund and create the flagship British science fiction magazine New Worlds, serving as its subscription director for some years.
He wrote several sf short stories published during the 1960's but is mainly remembered for his ten science fiction novels 1968-1981, nearly all routine productions for Robert Hale Limited such as the cutely-titled Monkman Comes Down. John Clute has noted that "The Drop In (1977), not for Hale, is an alien-invasion novel of some interest."
In recent years Eric Williams had several stories published in anthologies, mostly in the Fantasy Annual and Fantasy Adventures series. Two novels of his were made available on Lulu.com: Time for Mercy (sf, a reprint,) and Raggit, a new mainstream novel set in the year 1938. After Eric's death in January 2010, friends placed his autobiography on Lulu as a memorial.
Evidently the author of For Mona laid aside his typescript in 1992 and never returned to it. The book is therefore a partial record only, and one which in his estimation contained nothing significant or exciting; but like all autobiographies it "pulls aside a curtain of experience that is familiar yet wholly separate from our own." His was a gentle, understated talent, living a gentle, understated life. So, begin reading. I find his memoir genuinely worthwhile.
He begins with glimpses of family and school in 1920's Camberwell, in that stretched-out area of London below the Thames which you see at the bottom of Underground railway maps. Eric notes with typical diffidence that his memories are "nothing more than streets and houses," but through his eyes you discover people from a vanished gas-lit world:
"I see the shape of lampposts then and feel the thrill of first shinning to the crossbar; I see a milk cart and mother proffering her can to be filled from the churn; I hear the sad songs of the street singers still wandering the streets long after 1918, and remember running out to give them pennies; I see old buses with their open tops, remember the excitement of seeing my first Tilling bus with electric starter..."
Such a contrast to 2010, when visiting Texas musician Steve Miller could observe with disappointment that London people looked like little Americans. Yet Eric Williams in looking back noticed an odd lack of character even in the Twenties: "The days were endless, numberless, the years came and went without sequence — they just existed, we lived them."
He remarks of his ten-year-old self and the wider world of events and Empire: "What on earth was happening about then? I don't think I knew a thing, nor realised that there was anywhere else but Camberwell."
Compared to other Twenties childhoods, such as the lively and ever-moving Lancashire upbringing described in Don Haworth's classic Figures in a Bygone Landscape, Eric's is a strangely enclosed, uncurious existence; did he realise that he was trapped? Certainly as he moves from school into his first employment, into the strange underworld of documents, photo-copying and bookbinding below Somerset House, a theme begins to emerge. It is a wish to escape.
Because Eric Williams does not write melodrama, he does not overstate his situation. He merely mentions details. He loves reading, both boys' papers and more adult novels, and discovers the early science fiction pulps for three old pence a copy in Woolworth's. He listens to music, and conducts the orchestras in his head (although never graduating to performing.)
From the underworld he transfers to the Air Ministry, and in wartime volunteers for active service despite being in a deferred job. "I was tired of work and wanted action, damned fool that I was." He deliberately omits much of his Army life, observing that the experience "was common to thousands, and has been written up many times."
Consequently the main element in his wartime memoirs is a diary of long tedious days aboard the S.S. Samaria, steaming around Africa to Suez, concluding with a list of Signalman Williams' reading matter over an eight-month period — some sixty books, "snatched pieces of intellectual pleasure." Escape again.
His active service in North Africa and Italy is described minimally, as if of no real import, despite a few phrases which indicate otherwise: "rocket artillery in action," "Vesuvius in eruption," and "into Rimini a little too soon for comfort." True English understatement. He gives almost as much wordage to the flight home as to the war in Italy.
The next chapter is the most interesting to science fiction fans: his early enthusiasm, his active writing career, his fading from the library shelves as markets change and an agent labels his novels "dated in style." (This agent, I would guess, was the man who advised longtime author William F. Temple to abandon a projected novel called I think The Healer; when the opening section appeared posthumously in Interzone it seemed excellent to me, but perhaps the agent sensed that the midlist was dying.)
Eric was not initially a writer, although he tried, but like many early sf fans he saw outer space as the future. In his spare time from various day jobs he painstakingly constructed not a spaceship but a series of telescopes, culminating in his two-year endeavour to build a 14-inch reflector. The parallel with early British Interplanetary Society efforts such as those of Arthur C. Clarke is unmistakeable. Unfortunately this final giant proved unusable for reasons of optics, and in the early Sixties he married Mona, abandoned telescopes and began selling sf professionally.
The subsequent decade seems to have been his happiest and most fulfilled, with a wife and infant daughter, selling novels, gaining Sussex village friends and touring Britain on holidays. Life was never that good again. You could say the same for our country as a whole; as retirement beckoned, the Williams family moved to Horsham, where in only eight years — Mrs Thatcher years — they saw a host of individual shopkeepers wiped out and replaced by "high street names."
By the early Nineties he had two grandsons, who were childminded by Mona part-time while Eric tended to escape into voluntary work at charity shops. It's a pity that his memoir ends there, with Eric rather apprehensive about life and the future, when in fact we know that he was to publish further short fiction and find much pleasure and friendship in the Horsham Writers' Circle — and in his final year was, "with surprising vigour," uploading novels to Lulu.com.
One sad irony is that Eric Williams was about to be rediscovered by science fiction fandom. Peter Weston produces Relapse, the magazine of sf fan history; he researched Eric's phone number and on February 4th, 2010, rang the house in Horsham, but got no answer.
It was the day of Eric's funeral.
* * *
For Mona includes 11 pp. of sketches from Army life by Eric C. Williams, and 1 page of photographs showing his home-made telescope.

His novel To End All Telescopes is the subject of David Langford's column in the January-February 2011 edition of Fantasy & Science Fiction.
Copyright © 2011 by David Redd