The Exploits of Erle Stanley Gardner
by Bertil Falk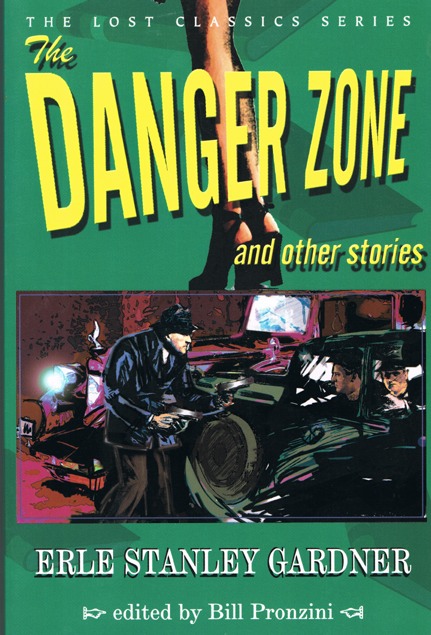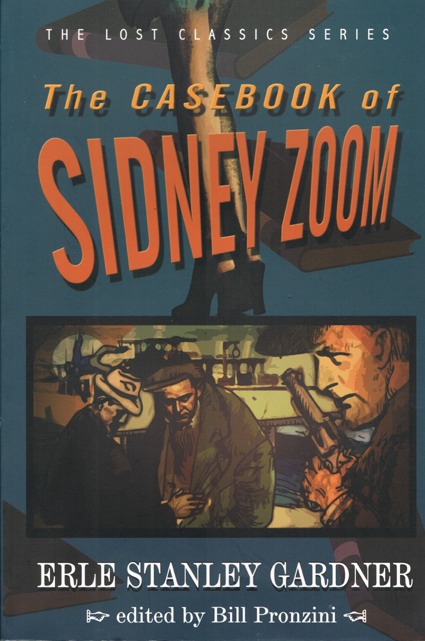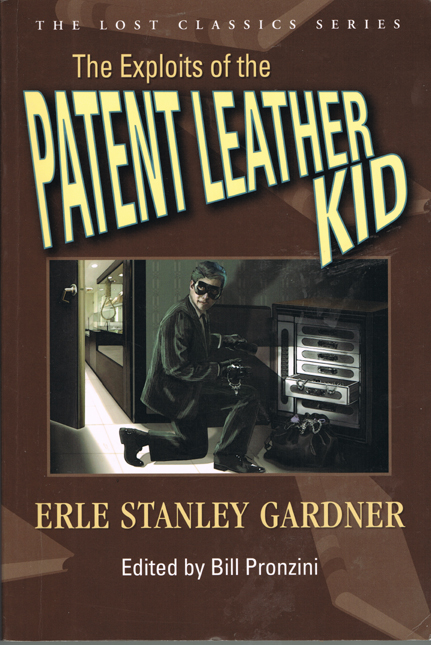 Author: Erle Stanley Gardner
Illustrators: Juha Lindroos, Gail Cross
Publisher: Crippen & Landru
Softcover: 250 pp.
ISBN:
The Danger Zone and Other Stories (2004)
1-932009-23-X
The Casebook of Sidney Zoom (2006)
1-932009-47-7
The Exploits of the Patent Leather Kid (2010)
978-1-932004-88-0
If the name Erle Stanley Gardner (1889-1970) rings a bell, you probably remember him as the creator of Perry Mason. Slowly but surely, the dust collected on the forgotten stories of Erle Stanley Gardner is being removed by Bill Pronzini and Doug Greene.
Bill Pronzini is not only a fine mystery writer of the Private Eye school, he is also an anthologist. He has been collecting Erle Stanley Gardner stories from old detective magazines of the pre-Perry Mason age.
Doug Greene of Crippen & Landru is the publisher of the Lost Classics series, which has so far published three collections of never before reprinted Erle Stanley Gardner stories.
The stories were originally published in magazines like Detective Fiction Weekly, Dime Detective, Black Aces, Argosy, Short Stories and other outlets. Erle Stanley Gardner was a very prolific hack writer. He churned out stories with a regularity indicating that he never lost his creative force and was never hit by writer's cramp.
True, he wrote formula stories, but he invented his own formulas, and he created them in accordance with what was expected in the 1920's and 1930's, when popular taste ran to jewellery thieves, freelancing gentlemen with a Robin Hood attitude operating on the border of law and order, and private detectives or crooks as hated by the police as by the criminals and similar characters.
Bill Pronzini tells us that, beginning in the early 1920's, Gardner "gave birth to no less than 49 unique detectives and adventurers." In those early days he was "the King of the Woodpulps."
The stories so far republished date from the 1930's. Reading those well-structured and well-written stories is not only an entertaining experience in the form of deep-time diving into days when things were different. They also place at our disposal an insight into the creative mind of a natural hack writer, who had no other aim, it seems, than being an entertainer.
One could say about Erle Stanley Gardner's output what Julian Symons wrote in his foreword to Strange Tales from the Strand magazine: "These are typical Strand stories: robust, unpretentious, not pretending to psychological subtlety. Most of them were written with no more purpose than to occupy the reader's attention for an hour; yet the best do more than that, leaving echoes in the mind."
At the same time that Erle Stanley Gardner was writing for the pulp market, F. Scott Fitzgerald graced the pages of the slick family publications like Saturday Evening Post and Esquire. Like Erle Stanley Gardner, F. Scott Fitzgerald, who was lavishly paid, wrote for the money, but he may have had other ambitions and intentions than just entertaining. Even though Gardner and Fitzgerald wrote in two different literary worlds, their stories were soon forgotten.
The short stories of Fitzgerald were rediscovered a long time after his death. They not only show that he was much more than the author of The Great Gatsby and the unfinished The Last Tycoon. Many of his stories are now held to be classics of their genres. Like the neglected stories of F. Scott Fitzgerald, the similarly overlooked stories by Erle Stanley Gardner show that he was much more than the man behind Perry Mason.
In the first volume, The Danger Zone and Other Stories (2004), Pronzini puts a smörgåsbord of characters on the table, such as the felon Slicker Williams, also called "the Corkscrew Kid"; the unconventional private investigator Snowy Shane; the freelance diplomat Major Copley Brane; the gentleman-burglar George Brokay, and many others. The ex-convict Slicker Williams is described as being "so crooked he could hide himself behind a corkscrew." The stories, like the language, possess an effortless quality.
There are eleven stories in The Danger Zone and Other Stories. They take us to strange, different and interesting places, introduce incredible situations, and entangle the reader in outstanding plots. All in all, they show a multi-talented author at work, displaying a varied approach to criminality, problem-solving and detective work.
The Casebook of Sidney Zoom is different in the sense that it concentrates on one of Gardner's characters and on a plot formula tailor-made for that specific character. Sidney Zoom is a rich loner, living on a yacht with a sidekick in the form of the police dog Rip. He has a female secretary. He is a very complex person, an individualist. During the Depression in the 1930's, Sidney Zoom haunts the streets at night, hunting problems, saving underdogs and underprivileged people in different kinds of distress.
Bill Pronzini states about the ten stories: "Each demonstrates Gardner's remarkable skill at finding new twists on staple pulp story lines involving stolen jewelry and artworks, confidence swindles, hidden fortunes, missing wills, disappearing bodies, murder frames, and the like."
Agreed. And Sidney Zoom has a trait in common with Sherlock Holmes. He has a weakness for disguise when prowling the streets with Rip. For that purpose, he has a closet filled with suitable paraphernalia fitting all kinds of situations.
In The Exploits of the Patent Leather Kid we find all thirteen stories with that hero, who made all his appearances in Detective Fiction Weekly from the May 28, 1932 issue up to and including the November 17, 1934 issue.
Gardner stuck very tight to the formula he created for his hero, who is as hated by the police as he is by crooks. As usual, Gardner is very successful, but reading these stories collected in a row means that we — unlike the readers who read them as they were published — see that Gardner took the easy way out. For even though he cleverly twists his plots, he follows a pattern — and it is for sure his own pattern — very closely. It is as if he had a template story in which he substituted events, individuals, etc.
The formula: Dan Seller is a millionaire, who associates with Inspector Phil Brane, who hates the Patent Leather Kid. Now, Seller himself is secretly the Patent Leather Kid. Now and then Seller disappears for a couple of days. He goes to a hotel, where he registers as Rodney Stone. He leaves the hotel through a back door and goes to another hotel, where he dons patent leather shoes and a black patent leather mask.
When reading the stories, we find that the same procedure is repeated over and over again. And the Patent Leather Kid is always able to destroy crooks and deceive Inspector Brane.
I have read all three collections and find the two first volumes especially very entertaining. The stories about the Patent Leather are not bad either, but they are a little bit too repetitive to be read consecutively.
Crippen & Landru has promised five more collections. There is especially one of Erle Stanley Gardner's characters that I am curious of: Ed Migrane, who was introduced in Double Detective at the end of the 1930's. Crippen & Landru, please, do not miss the three stories with that Headache Detective. I look forward to reading them.
Copyright © 2011 by Bertil Falk