Fritz
by Mike Florian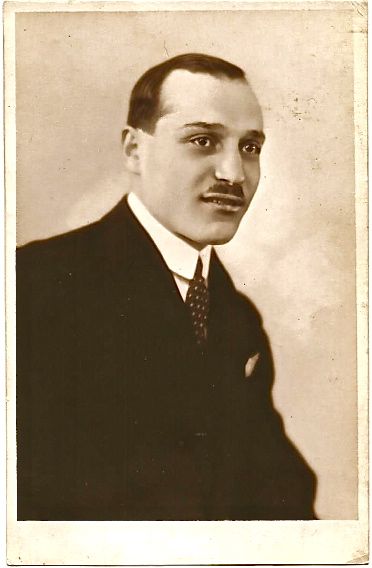 Fritz Reich
Fritz was a great father. He provided well and did all the right things. His was a small family with his wife Dora and his only child, Ema. Fritz wasn't particularly tall but he presented a dashing figure with his moustache and fedora, his fur coat and his straight-backed, self-confident demeanour.
Dora, on the other hand, was barely five feet tall. She was tough. And she loved Fritz with her heart and soul. Fritz and Dora didn't understand how Ema sprouted and grew to be almost six feet tall. Ema was beautiful, the belle of the ball. At her debutante event at the concert hall in the heart of Prague that year, she won a trophy.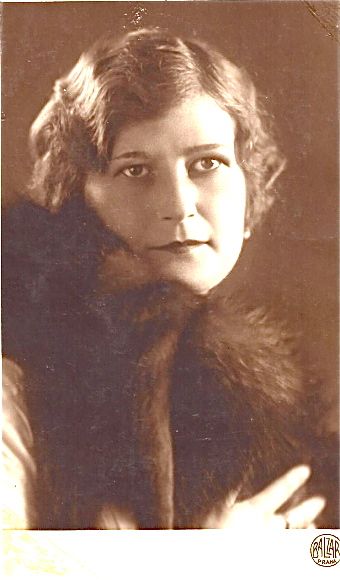 Dora
That was about seventy years ago. The silver trophy, black and spotted now, lies in a box somewhere in the basement of Ema's modest Montreal home.
Fritz was a furrier. He owned a profitable factory and maintained good, loyal employees. Dora would stroll in the park or promenade wearing Persian lamb one day and fox the next. When little Ema grew up, Fritz's advertising studio took photos of her wearing a satin dress trimmed with white mink fur at the hem and at the wrists.
In the winter, like many well-to-do residents of Prague, Fritz took his family to the Krkonoshe mountains where they skied and enjoyed the hotel spas. To get away from the summer city heat they stayed at the Hotel Pupp in Karlovy Vary.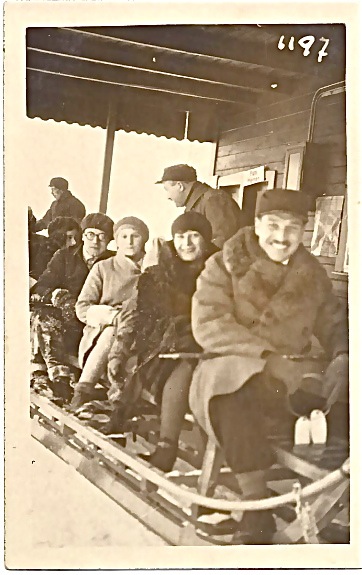 happy times
Fritz worked smartly and tenaciously and ran a good business. He also knew how and when to enjoy the fruits of his labour. The fact that Dora was not a Jew did not preclude her from keeping a Jewish house out of respect for Fritz. They observed Friday shabat dinners and observed both Easter and Passover as well as all other holidays.
When Ema grew up and married, it was a celebration to end all celebrations. The wedding was at the Church of St. Cyril and St. Methodius, later to be made famous by the Czech Resistance fighters holed up in the basement following the unsuccessful Heydrich assassination.

Ema, the author's mother
Of course the groom, Kurt, was handsome and came from a well-to-do family. They were involved with the Tatra car manufacturing company. Ema and her husband travelled abroad, hiked in the Austrian Alps and sailed in the Adriatic. They swam by the beaches of Lido and anywhere else their hearts would take them.
When the Germans invaded Poland, Fritz calmly told frightened Dora and Ema the war wouldn't come to Prague. Let's go about our life, he said. It's only a temporary thing, he said. However, in due time, the walks in the promenade stopped. The balls stopped. The winter and summer vacations stopped. Food was beginning to get expensive.
* * *
In the late afternoon of a November day in 1941, with the war in full bloom, a hard knock on the door of Fritz's home stiffened the three figures sitting at the kitchen table. The Vltava River reflected sunlight into the riverside apartment. On the opposite end of the hallway, by the large living room and below the balcony on the street side, was a black car, motor running, waiting. Nothing else moved on Zborovska Street. Dora cried. Ema stood by her side, their hands resting together on Dora's shoulder. Fritz opened the door.
"You are Frederich Reich?" asked the pale bespectacled man, behind him stood two others. No uniforms.
"Yes," said Fritz.
"You come with us now, yes?" The man with the glasses turned to the two women. "It's only a formality, madam," he said in a heavy German accent. "We will bring Mr. Reich back shortly."
Dora never saw her husband again, nor Ema her father. The women held each other tightly, not moving.
A few days passed and Dora received the first letter from Fritz written on toilet paper and smuggled out of Terezinstadt prison by way of the dirty laundry Dora and Ema were allowed to pick up.
My dearest Dora,

I got the letter from you and you can write more. I have interest in knowing what you and the relatives are doing. Don't send the post parcels because I don't get anything from that. If it's too much they don't give me anything. Better if it's less. The last one was with chocolate (in a jar), so it was very good. This you can always send and bread also. But anything else, no.

How is it going with me legally? What is Dr. Vrtilek [lawyer] doing? The whole time I have not yet been in court. I had a medical checkup and now I am waiting to go with Jelinek [another friend in the prison] to Germany. Why don't you ask the Gestapo for a visit with me? I would like to see you, and my Commissar is in room 322.
A week or two passed and a second letter arrived, also on toilet paper.
Doritchka, [a loving term for Dora]

Write me what you are doing, if you are doing something for me and if I can count on success. I am afraid I will have to go in the winter somewhere in the Lager [camp], in the concentration camps. I am very weak and my kidneys hurt me. I am desperate that they are holding me here without reason so long. What is Kurt doing? Where is he working? Write me everything so that I can understand and mainly that you got the letter [now through censorship].

Don't send me too much laundry, mainly older and dark shirts and look through everything you send carefully.

I kiss you all but I would like to be again beside you. I am going today to Germany. Doritchka, I love you. Help me please. I kiss you a thousand times, my dearest Doritchka.
Much later, a third communication arrived. This time on an official postcard, censored.
FOODSTUFFS ARE NOT PERMITTED
GERMANY IS WINNING IN ALL EUROPE

My dearest,

I am in good health and everything here is very good. I am all right. Send me the underwear and the working shoes, sandals, soap, toothbrush, toothpaste and the same for Jelinek. Everything also. You can also send me some money. Please write what is with Kurt and Ema and what they are doing. I am sending you lots of regards and kisses.

Yours, Fritz

Write only on the 15th and 30th of each month.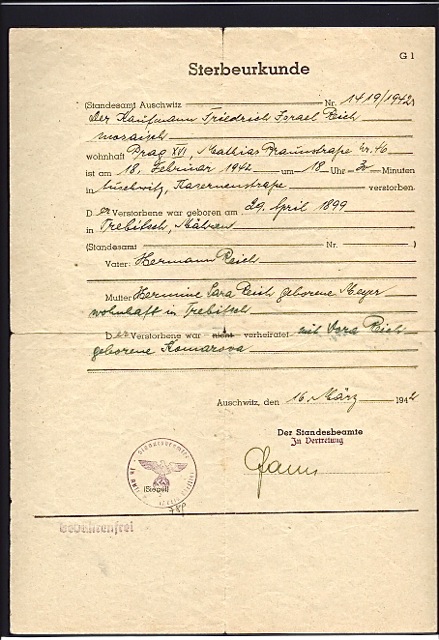 death certificate
That was the last Dora and the family heard from Fritz. On the 18th day of February, 1942, Dora received an envelope. She opened it and read the death certificate of Fritz Reich. It was printed on the official stationery of the Auschwitz camp, signed by the Commandant. The official cause of death was shingles.
Sometime later, with beautiful Prague blanketed under the German occupation, Dora found that Fritz's fur business continued to operate. Fritz's partner was now the new owner. Dora, Ema and Kurt lived together in Dora's apartment. Kurt's family had moved to Vienna. Potato soup was a treat. On May 2 of that same year Ema gave birth to a boy.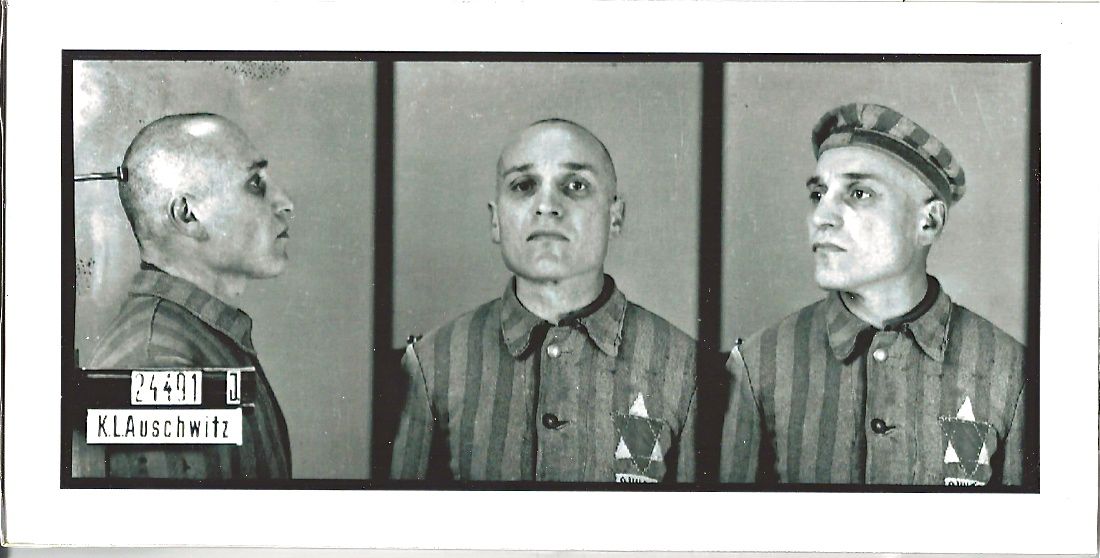 Fritz in Auschwitz
Epilogue
We have Christmas lights and we light the Chanukah candles. I was raised a Catholic in Montreal and even attended a Jesuit school and served as an altar boy. They wanted me to join a seminary in southern Quebec.
It was only late in life that I became aware of a Jewish heritage in the family. My wife, whom I met 25 years ago, is Jewish. Her mother, Edith, and my mother, Ema, were best of friends.
Edith's family left Prague in 1939 and settled in California. When the family was leaving, my wife's mother, Edith, had her face pressed against the train window and Fritz had his against the outside of the same window. Both were crying. Edith was his favourite "niece" and she was 13 years old at the time. Our grandmothers were very close as well.
Copyright © 2015 by Mike Florian