James Graham, Becoming a Tree: Poems 2007-2015
reviewed by Alison McBain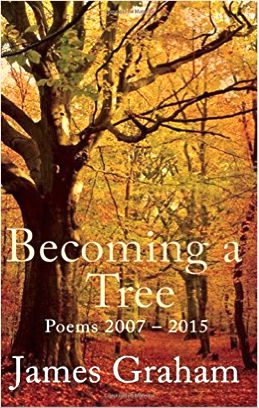 Becoming a Tree: Poems 2007-2015

Author: James Graham
Publisher: Matador
Date: March 10, 2016
Trade Paperback: 128 pages
ISBN: 1784625442; 9781784625443
Price: £8.99
James Graham's poetry collection Becoming a Tree: Poems 2007-2015 is beautifully written. I love humorous poetry and intellectual poetry as much as the next reader, but my absolute favorite poems are the ones that linger, that I can't let go of, and that can't let go of me. This collection is full of these types of works, the ones that I will still be thinking about many days later.
Most of the works are one to two pages, with the exception of one epic poem near the end of the collection. Aside from one prose poem, they are all written in free verse.
There are many layers to each work. I found myself reading a poem, and then rereading it to see what I had missed the first time around. Several themes abound, including self-reflective poems about the narrator's personal history, reaction to grief and the advancement of old age; the impact of history in various countries such as France, Russia and Bolivia; historical and current themes, such as slavery, war, employment and poverty; religion and the place of morality; and nature.
Not all of the poems were to my taste. Although I quite enjoyed Mr. Graham's free verse, his prose poem and epic poem were of a format that spoke less to me as a reader. I felt that Mr. Graham's strength lay in a particular style that didn't inhibit the freshness or the beauty of his lines. For example, from his poem "Memorial":
... A few
red roses will guzzle their last water and cut-
flower food, and begin to rot. This stone
will stand through many winters. Weathered,
it will not fall when her name has lost its meaning,
and passers-by are strangers, carrying other flowers.
Two of my favorite poems of the collection deal with grief at the loss of a loved one. "Memorial," mentioned above, and the other one is "Ash." It tackles the subject of the loss of his wife.
At the grave there is no poetry in me.
The man in the black suit hands me a little box.
Her name is on it. She is ash.
The starkness of the lines are poignant by their very absence of artifice. The loss of his wife has taken away his words so profoundly that he has also lost the power of his craft. In three short lines, he has thoroughly conveyed his grief to the reader, and the impact it has made upon him.
Not all of the poems are serious, although many deal with very serious themes. There are several more light-hearted poems, including "Believer's Ground," about a childhood wish made real. This one appealed to me, not only for the graceful imagery, but also for the subject matter about the infinite possibilities of space.
...I wish
to run at last beyond the pace
of any wish, around the cup
of time and space, and come
to the believer's ground:

a faint continuous song pervades all space.
The universe breathes; the planets teem; their people
come in their craft to visit us; and comets carry
seeds through the profoundest cold and dark.
Last, but not least, I'll include this small snippet from "On the Art of Photography."
It's the technique of seeing:

of looking without dreaming,
of emptying the mind of memory,
of friends, of what's for tea,
and seeing. Finding, and seeing.
I'd like to say the same thing about Mr. Graham's work: his poetry is a great find. I hope you enjoy reading it as much as I did.
Copyright © 2016 by Alison McBain