KJ Hannah Greenberg, Can I Be Rare, Too?
excerpt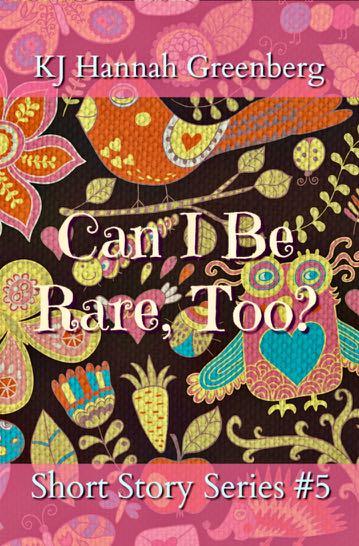 Can I Be Rare, Too?

Author: KJ Hannah Greenberg
Publisher: Bards & Sages Publishing
Reseller: Amazon.com
Date: April 2, 2017
ISBN: 1545085870; 978-1545085875
Balayage
Simone somewhat pushed open the salon door. She used one palm, while cradling her smart phone in the other. Loud K-Pop embraced her. She looked from her feet to the entrepreneur's eyes. She ought never to have ventured alone to the strip mall.
The pierced entrepreneur shrugged and returned to pouring purple liquid onto another's head. With a shoulder roll, she gestured Simone to a second chair.
As Simone walked over to the indicated seat, she inhaled. The air smelled like hair care chemicals and clove cigarettes. She hadn't thought that kreteks were still legally imported. She had read about their trendiness, during the 1960s and 1970s, in her AP Contemporary American Economics class.
Simone caped herself and then squeezed closed her eyes. The pictures framing the mirror featured ombre dos, phosphorescent thatches, and cuts she had thought were reserved for show dogs. She was an honor roll student, not a popular miss.
Sure, she had seen evidence of some weird cosmetology at last year's prom, but she had dismissed those bits of shredded and dyed locks as faddish. Yet here, in this place of chipped linoleum sinks and plastic bonnet hair dryers, there seemed to be few divides between yesterday's fashions and today's vogues.
Simone touched her hair and shook her head. Truly, she ought not to have ventured to this place.
The lone stylist wrapped a towel around the other gal and sent her to sit under one of two gas-powered hoods. She next put her hands on Simone's shoulders. The owner shrugged as she spun the teen in the chair, trying to fathom the girl's desired look.
Simone shuddered.
Ms. Artiste returned with a stylebook. Her new client could peruse the images while she took a cigarette break.
Simone slowly turned the pages and gasped. Branches and tableware stuck out of the models' tresses Their faces were painted oddly. Fully seventeen, she felt it was time to part with her mother's image of her. She did not, however, mean to part with sanity. Hair painted with rainbows or sunsets would fare poorly during admissions interviews at Yale and Cornell.
The stylist returned with a halved lemon. A woman old enough to be habituated to Indonesian smokes, was likewise old enough to have grown and growing children of her own.
The beautician squeezed that citrus' juice on Simone, charged her half of the usual fee, and instructed the young woman to sit not under a dryer, but on a chair outside of the shop's door. Her treatment required the sun.
Later, after a fretting Simone paid and left, the hairdresser phoned her oldest daughter. Their relationship, too, needed more graduated exposures to nature.
Copyright © 2017 by KJ Hannah Greenberg