Bewildering Stories'
Annual Review, 2011
The Mariner Awards: issues 413-459
"The place to be at Bewildering Stories"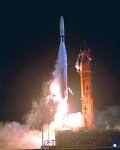 The launch of Mariner 2
to Venus, August 27, 1962
The Mariner Awards are named for one of the first successful interplanetary missions. The more than 43 titles listed — out of 383 for the year — are the
crème de la crème
, the ones that the Review Board rated "very good" or "excellent" in 2011. They have earned
Bewildering Stories'
most signal honor.
We're sure that all readers can cite titles they'd like to add to these lists; fair enough. But we're also confident they'll find nothing they would omit.
The Annual Review is divided into genres, like the Quarterly Reviews. The titles are listed as in the Quarterly Reviews: alphabetically by author, with multiple titles in chronological order.
Titles all in italics represent serialized works with chapter titles or collections of stories or poems in which more than two titles qualified. One title is in a language other than English although the story itself is in English.
Only the Review Board's selections are listed here. Since the Departments are selected by the Managing Editor, they remain in the Quarterly Reviews.
As we like to say, "There is no story so truly bewildering as reality." The Crew of Bewildering Stories wishes our contributors and readers a most pleasantly bewildering New Year!
Everything in green is a link. Links open in a new window, so you won't lose your place.
Serials

Harry Lang, The University of Dreams and Knowledge
Hongping Liu, The King of the Forest

Flash Fiction

Sandra Crook Deviled Spam
Harry Lang Fresh Strawberries and Cream

Poetry

David Barber, The Amherst Girl
Bill Bowler, The Bee Among the Blossoms
Rebecca Lu Kiernan, Letters to the Bat
Mike McGonegal, Cold Searing Strings
John Stocks

Short Poetry

Allison Grayhurst, Childhood Cracked

Essays & Memoirs

Bertil Falk, Time Paradoxes...
Henry F. Tonn, An Afternoon at Buchenwald

Short Stories


Nikki Alfar, The Zombie on Cuenca Street
Lou Antonelli, Tell Gilgamesh I'm Sorry
Chris Castle, Speech Bub
Scott D. Coon, The Laughing Bombs
Mike Florian Body Work
Russell Helms, What Glenda Wanted
Gary Inbinder Missing Morgan
Margaret Karmazin, Coitus Interruptus
Christopher Lee Kneram, The Wreck of The Perihelion Siren
Maria Kontak, Painting Faces
S. J. McKenzie, The Smith and the Water-Horse
Marina J. Neary Nightmare Jack
Diana Pollin Designer Deities
Oscar Sapper, Bright Orion
Christopher C. Smith, Icarus
Zarin Thomson, A Salient Point
Ron Van Sweringen, Rupert and the Girls' Night Out

The Quarterly Reviews of 2011

Fourth Quarterly Review
Second Quarterly Review

The place to be at Bewildering Stories
The Annual Reviews, Quarterly Reviews, and Semi-Annual Retrospectives
Available at Bewildering Press
Jack Alcott, Grim Legion
Sam Ivey, Gilboy's Quest
Martin Kerharo, The Dohani War
Harry Lang, The Mountains of the Eldritch Sea
Danielle L. Parker, In a Pig's Eye
Slawomir Rapala, Aezubah, the Crimson General
Bertrand Cayzac, Floozman in Space
Michael E. Lloyd, Donna's Men
Michael E. Lloyd, Missing Emilie
Michael E. Lloyd, Observation One
Michael E. Lloyd, Observation Two
Michael E. Lloyd, Observation Three

Return to top
Go to issue 459
Go to the All Issues index
Go to the Schedule "In Times to Come"
Copyright © December 26, 2011 by Bewildering Stories