Lois McMaster Bujold, A Civil Campaign
reviewed by Danielle L. Parker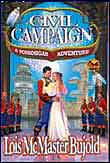 A Civil Campaign
Author: Lois McMaster Bujold
Publisher: Baen, 1999
Hardcover: <$24 US
Length: 416 pp.
ISBN: 0671578278

Midway through Bujold's latest Vorkosigan adventure, A Civil Campaign, there's a memorable dinner. That's when I laughed out loud reading this book. The four female literary goddesses quoted in the dedication — Jane, Charlotte, Georgette, and Dorothy (that's Austen, Bronte, Heyer, and Parker to you) — might have laughed out loud too. Because it's such a hilarious dinner.
Picture the hero of the story, the frustrated suiter, Lord High Auditor Miles Vorkosigan. He's runty, short, scarred, and sort of hunch-backed. He's never wooed a woman in earnest before, and with no real experience in the matter, he's settled on applying his considerable military expertise to the problem. Alas, the object of his grand passion is a skittish young widow. Lord Miles plans to ambush her affections; sneak up on her, sort of, while pretending an interest in flowers and gardens. Only he's made the mistake of telling everyone else of his love.
At the dinner, right over the serving of bug butter, some fool lets his secret out. His intended is shocked, and his ambush prematurely sprung. What can Miles do? A good military man knows that in the crunch, he might as well risk all. He blurts out his proposal before the dinner table, aunts, uncles and all. Of course, we know how excessively successful military strategies are in the pursuit of love...
Then there's his clone-brother Mark, the other dinner-table suitor. He hates to be mistaken for his illustrious brother, so he's fat. Short too, of course, and also unrequited in love. His sweetie, the beauteous Kareen, has returned from college stay and suffers from Parental Proximity Paralysis now that she's back in the family fold.
Said stunned parents, also attending the dinner party, have just learned that not only has their dear daughter Gone and Lost Her Virtue already, but the object of her affection and their possible future son-in-law is that... that fat, runty clone... Mark. It's more of a shock than the bug butter!
Do I keep mentioning the bug butter? It's a scheme of the commercially ambitious Mark, and served to the unwitting guests and host — his brother — in various forms at said party. Worse yet, the socially inept scientist who developed the cockroach-ugly critters is also a guest. He's proudly modified their genes to display the Vorkosigan family crest in minature, and brought some of them to the table to display his achievements.
It's enough to make another guest, the ambitious Lord Donno cum Donna, to split his sides in merry appreciation. Lord Donno is a transsexual with his (formerly her) eyes set a title she (he) would forfeit to the eldest male heir if she'd (he'd) retained her (his) former buxom female form. One of his former lovers (hers, I mean: are you following this?) is there too, and really, it's most uncomfortable for poor Ivan. And the party just goes down from there... tangled in its own hilarious skein of biological, dynastic, and romantic ambition.
There are a lot of books in Bujold's "Vorkosigan" saga, both before and after this story. Fortunately, A Civil Campaign stands on its own; no prior experience necessary with those previous dozen. It's good light-hearted fun, and if those quoted literary goddesses (except for Dorothy) might consider it a little low-brow, well, they might also smile. What else can you do about a story that ends in five happy matings and the triumph of a scheming and already too-well-adjusted transsexual Count? (Only poor Ivan is left out in the cold).
The story might be a little farcial, of course, but like a candy apple, there's a little bit of bite beneath the goo, enough for this reader to smile. Once in a while a good Comedy of Manners can't be beat. Enjoy!
Copyright © 2005 by Danielle L. Parker