At the Bottom of the Soul Ocean
by Karin S. Heigl
While oily credit bubbles glisten in purple puddles,
dirty-white tatters of memory drift, ripped apart in red pools.
There where hungry economy sharks shred shimmering shirts,
where dark daily business trickles away into despair,
where deathly dream tankers leak, laden too heavily with sticky-black promise:
There hides the bottom of the soul ocean!
There lies the drained rubbishtrash nobody wishes to see
until the surf spews it out: hollow bones, faded, all scrunched,
to feed it amidst dead talents' cadavers, stifled in slick,
to the raptor gulls' greed.
Abfallmüll
Während ölige Kreditblasen in Lachen lila schillern,
treiben schmutzigweiße Erinnerungslumpen zerfetzt in roten Pfuhlen.
Dort wo hungrige Wirtschaftshaie helle Hemden zerreißen,
wo trübes Tagesgeschäft zu Verzweiflung zerrinnt,
wo tödliche Traumtanker leck liegen, zu schwer beladen mit
klebrigschwarzem Versprechen:
Dort ist der Grund des Seelenozeans!
Dort liegt der ausgesaugte Abfallmüll, den niemand sehen will;
bis die Brandung ihn ausspuckt, hohle Knochen, bleich und zermalmt,
um ihn, neben Kadavern toter Talente, erstickt im Schlick,
der Raubmöwengier preiszugeben.
Copyright © 2020 by Karin S. Heigl
Artwork © 2020 by Richard Ong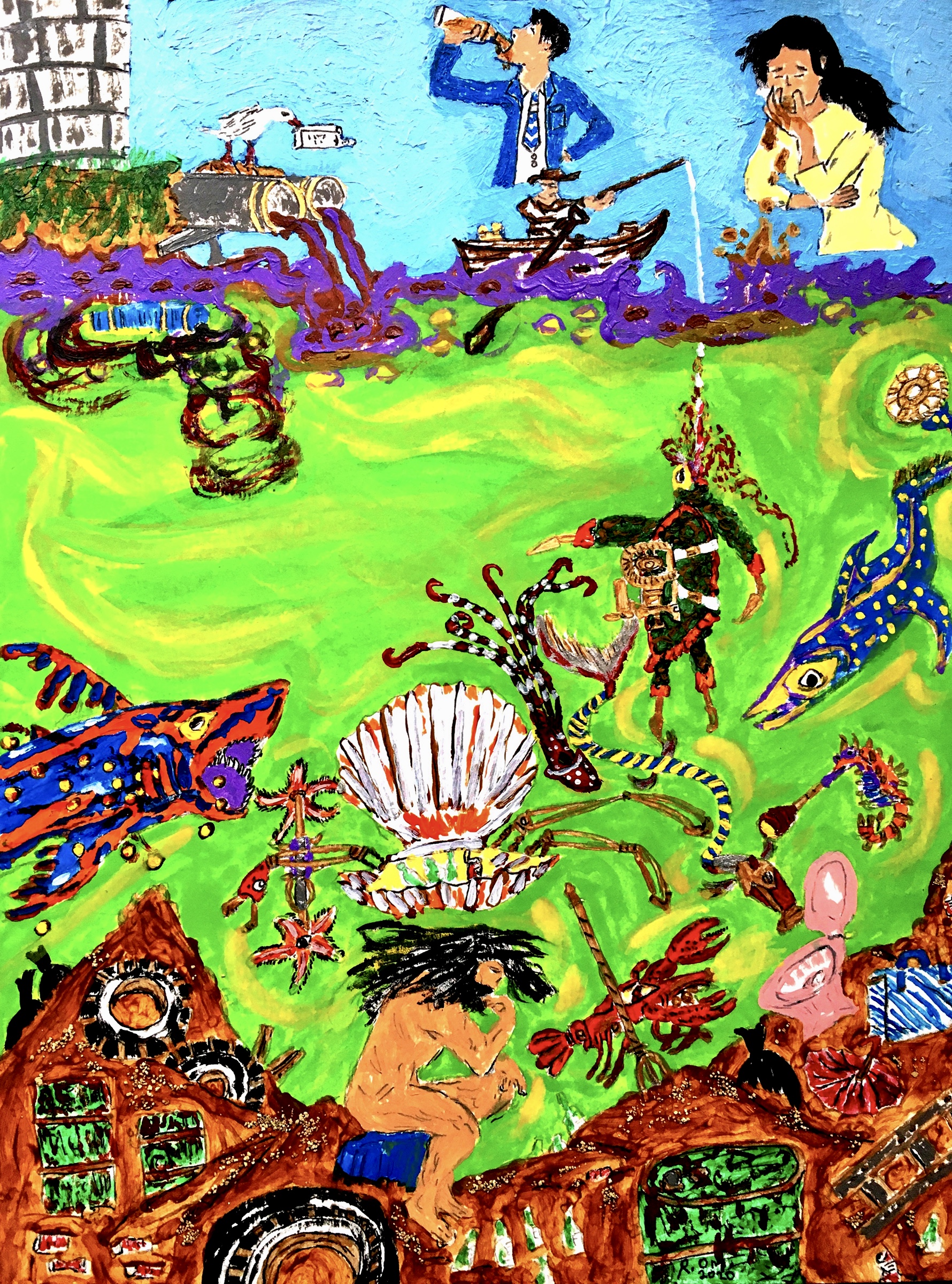 Soul Ocean by Richard Ong