Bewildering Stories'
Annual Review, 2013
The Mariner Awards: issues 508-554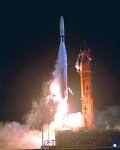 The launch of Mariner 2
to Venus, August 27, 1962
The Mariner Awards are named for one of the first successful interplanetary missions. The titles listed — out of 361 for the year — are the ones that the Review Board has rated most highly in 2013. They have earned Bewildering Stories' most signal honor.
We know that all readers can cite other titles they feel belong on these lists; fair enough. Please write and tell us what else you would include and, most importantly, why. But we are also confident you'll find none you would omit.
Like the Quarterly Reviews, the Annual Review is divided into genres with titles listed alphabetically by author and multiple titles in chronological order. Titles all in italics represent either serialized works with chapter titles or collections of poems in which more than two titles qualified. The Departments remain in the Quarterly Reviews.
We resume regular publication with issue 555 on January 6, 2014. Meanwhile, as we like to say, "There is no story so truly bewildering as reality." The Crew of Bewildering Stories wishes our contributors and readers a most pleasantly bewildering New Year!
Everything in green is a link. Links open in a new window, so you won't lose your place.
Novels

Martin Kerharo, The Dohani War

Novellas

Mark Bonica, Spiraling In

Serials

Bill Bowler, The House of Mammoth Bones

Flash Fiction

Heather Frederick, The Talk

Essays

Mike Florian Reading Devastation: the Message of the Ruins
Garin G. Webb, The Devil in Blues, Ragtime and Jazz

Poetry & Short Poetry

David Barber, Ruben de la Vialle, 1660
Rebecca Lu Kiernan, Timewave Zero
Cristina-Monica Moldoveanu The Sound of Distant Ankle Bells
Piyush Pandey, Why Farewell Comes First
Carmen Ruggero, The Scent of You

John Stocks

Short Stories

Jack Alcott, The Jaggers
S. Decoteaux Bates, The Borromean Cycle
Phil Davies, The Arianthids
Mike Florian, The Oarsmen of Crete
Christopher T. Garry, Flame Bound
Shaun Hayes, Mrs. Carmichael's Best
Romney S. Humphrey, The Northwest Corner Pool
Gary Inbinder, Beyond Dead End
Rebecca Lu Kiernan, Lucy of the Valley
Bill Kowaleski, Critical Mass
Arthur Mackeown Atonally Yours
Zac Miller, Age of Reception
Danielle L. Parker, A Dream Within
Leonard Schlenz, You Crack Me Up
S. L. Scott, Zombies Are Easier
S. E. Sever, Kuiper Court
Ross Smeltzer, The Landscape
Sherri Cook Woosley, Two Sides of a Triangle
Tatyana Yankovskaya, If She Hadn't Learned to Knit
The Quarterly Reviews of 2013
The place to be at Bewildering Stories
The Annual Reviews, Quarterly Reviews, and Semi-Annual Retrospectives
Available at Bewildering Press
Jack Alcott, Grim Legion
Sam Ivey, Gilboy's Quest
Martin Kerharo, The Dohani War
Harry Lang, The Mountains of the Eldritch Sea
Danielle L. Parker, In a Pig's Eye
Slawomir Rapala, Aezubah, the Crimson General
Bertrand Cayzac, Floozman in Space
Michael E. Lloyd, Donna's Men
Michael E. Lloyd, Missing Emilie
Michael E. Lloyd, Observation One
Michael E. Lloyd, Observation Two
Michael E. Lloyd, Observation Three

Return to top
Go to issue 554
Go to the All Issues index
Go to the Schedule "In Times to Come"
Copyright © December 30, 2013 by Bewildering Stories