Bewildering Stories'
Annual Review, 2010
The Mariner Awards: issues 366-412
"The place to be at Bewildering Stories"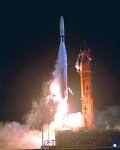 The launch of Mariner 2
to Venus, August 27, 1962
This Annual Review revives the old Certificate of Merit as the Mariner Awards, named for one of the first successful interplanetary missions. The 65 works listed — out of 412 for the year — are the
crème de la crème
, the ones that the Review Board rated "very good" or "excellent" in 2010. They have earned
Bewildering Stories'
most signal honor.
We're sure that all readers can cite titles they'd like to add to these lists; fair enough. But we're also confident they'll find, upon review, nothing they would omit.
The Annual Review is divided into genres, like the Quarterly Reviews. However, we want to keep everything on one page, for your convenience. The titles are listed as in the Quarterly Reviews: alphabetically by author, with multiple titles in chronological order.

Everything in green is a link. Links open in a new window, so you won't lose your place.
Only the Review Board's selections are listed here. Since the Departments are selected by the Managing Editor, they remain in the Quarterly Reviews.
A pdf file of the 2010 Mariner Awards is available for download.
Novel


Michael E. Lloyd, Donna's Men

Novellas

Bill Bowler, High School Honey
Kir Bulychëv, Half a Life
Oonah V. Joslin, A Genie in a Jam

Drama

Marina J. Neary, Hugo in London

Serials

Bill Bowler, Charlenes 2 and 3
Harry Lang, Beneath the Ice
Danielle L. Parker, Reaper

Flash Fiction

Dan McNeil, Collecting Stones from a Beach
Carmen Ruggero, Trigal

Memoirs

Bertil Falk, In the Midst of Hell
Arthur M. Mackeown, On the House
V. Ulea, Sea Pilot on the Smokestack

Poetry

Liana Alaverdova, Ars Poetica
Cat Enos, Routine Operation
Verdandi Kuhlman, Forzando
Marina J. Neary, Inside Darryl's Bookcase
Carmen Ruggero, Coming to Terms
John Stocks

Short Stories


Jack Alcott, The Oceanic Express
Dean Francis Alfar, In the Dim Plane
Nikki Alfar, The Corridor
A. Frank Bower, The Rule of Three
Phillip Donnelly, The Interactive Classroom
Bertil Falk Mr. Eisenstein's Holiday
Abha Iyengar, Drought Country
Blaise Marcoux, Yellow Pickle
Marina J. Neary, Where Else Can You Find Pies Like That?
Danielle L. Parker Pursuit of the Litaniera
Mimi Rosen, Extraordinary Man
Brian Trent, Everywhere After All
Ron Van Sweringen Chickasaw Ridge
Ajay Vishwanathan, Bhima
Kaushik Viswanath, Chimera Khanna
Mike Voltz, Summer Rain
Don Webb, Taking Notice
Julie Wornan, The Dead Are Easy to Keep

Short Poetry

Rebecca Lu Kiernan, Snowball Effect
Harry Lang, Walking Wounded
Marina J. Neary

---

The Quarterly Reviews of 2010

Fourth Quarterly Review : Editors' Choices from issues 402-412
Third Quarterly Review : Editors' Choices from issues 389-401
Second Quarterly Review : Editors' Choices from issues 377-388
First Quarterly Review : Editors' Choices from issues 366-376

The place to be at Bewildering Stories
the Annual Reviews, Quarterly Reviews, and Semi-Annual Retrospectives
Available at Bewildering Press
Jack Alcott, Grim Legion
Sam Ivey, Gilboy's Quest
Martin Kerharo, The Dohani War
Harry Lang, The Mountains of the Eldritch Sea
Danielle L. Parker, In a Pig's Eye
Slawomir Rapala, Aezubah, the Crimson General
Bertrand Cayzac, Floozman in Space
Michael E. Lloyd, Donna's Men
Michael E. Lloyd, Missing Emilie
Michael E. Lloyd, Observation One
Michael E. Lloyd, Observation Two
Michael E. Lloyd, Observation Three

Return to top
Go to issue 412
Go to the All Issues index
Go to the Schedule "In Times to Come"
Copyright © December 27, 2010 by Bewildering Stories